October 6, 1996
Breakthrough in telescope technology unveiled atop Mauna Kea
By JASON ARMSTRONG
West Hawaii Today
MAUNA KEA SUMMIT - If image is everything, then the only way to view space these days is through the diminutive Canada-France-Hawaii telescope and its state-of-the art adaptive optics technology.
---
François Rigaut points to the imaging unit under the Canada-France-Hawaii Telescope prior to a night of work atop Mauna Kea. - Baron Sekiya Photo
---
A $1.7 million adaptive optics bonnette corrects atmospheric distortions that resemble the shimmering effect of viewing a coin at the bottom of a swimming pool. With the 19-position mirror retrofitted, the CFH telescope can retrieve better imagery than telescopes twice its size, including the neighboring W.M. Keck Observatory and even more pricey equipment.
"We can now see things as clearly from Earth as we could from the (Hubble) space telescope," David Woodworth, telescope operator, said of gas jets and the expected discovery of new planets orbiting distant stars.
"It's a big boom to science. It will open up a lot of research positions and fields of study," he added.
Resembling a large truck tire attached to the bottom of the house-sized telescope, the apparatus was installed in late March and first used for scientific observation beginning last week. It is named "Pueo" after the Hawaiian owl known for its sharp night vision.
"It's really still in the lab stage. This is the first one that could really be called production," CFH computer engineer James Thomas said, adding the new technology will soon become an industry mainstay. "People are retrofitting them to existing telescopes already."
Adaptive optics technology was first envisioned in the 1950s, but it was not refined for application until a decade ago when the U.S. military used it to guide lasers for the Star Wars defense program, Thomas said.
Just how sensitive is the CFH telescope when equipped with the adaptive optics bonnette? Astronomers can now distinguish a car's individual headlights from a distance of 1,300 miles compared with a mere 250 miles without the corrective filter, said François Rigaut, CFH resident astronomer.
CFH astronomers Thursday night, however, were not looking at headlights or coins as they opened the huge dome and adjusted their computers to provide real-time color images.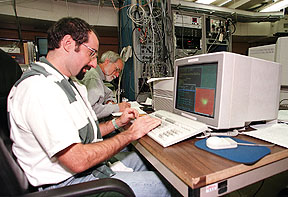 ---
François Rigaut (front) and David Crampton work on refining an image of comet Hale-Bopp. - Baron Sekiya Photo
---
The object of interest was Hale Bopp Comet - a chunk of ice the size of Hawaii Island located roughly 260 million miles from Earth.
The collection of debris left from the formation of the solar system is not only the largest comet seen in modern times, but also has the potential to the brightest of the decade, Rigaut said.
Bopp's 4,000-year rotation cycle means it has never been examined before, and will disappear in about two years, which makes observing it a very "hot topic" for astronomers, he said.
The images of Bopp - believed to be the best available - will soon be published on CFH's World Wide Web site, Rigaut said.
The vibrant images collected Thursday will also be transmitted to CFH headquarters in Waimea where the pictures will be archived.
---
Link to the West Hawaii Today Home page
---
All images and text are copyrighted by West Hawaii Today. Any use of text or images without prior written permission is strictly prohibited.
©Copyright 1996 West Hawaii Today