CFHT, Current Image of the Week
---
CFHT's ASTRONOMY PICTURE OF THE WEEK
December 4th, 2000
First light from GriF on PUEO

Each week, discover a new spectacular image obtained at CFHT. Browse the archive
---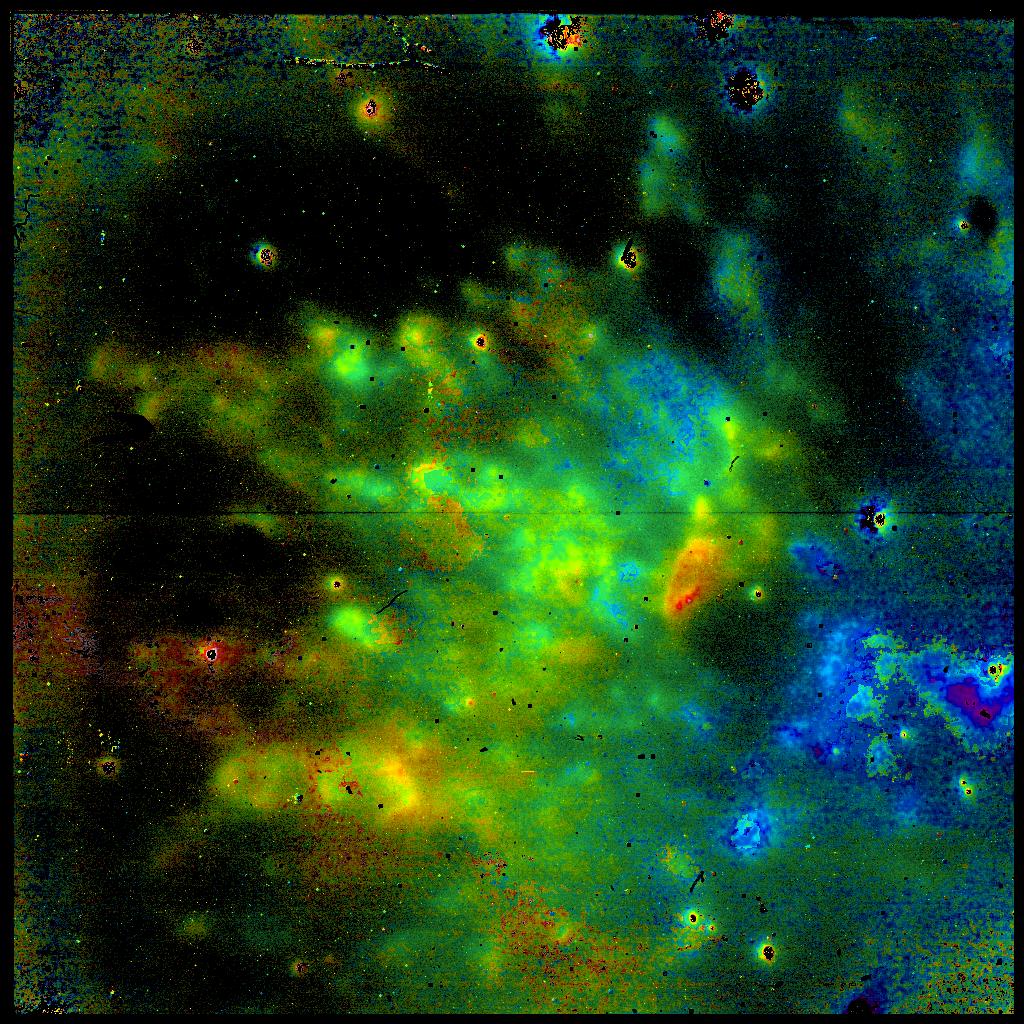 First Light from GriF on PUEO

Credit: Image courtesy of Y. Clénet1 & E. le Coarer2 from the GriF team
and J.L. Lemaire1 & D. Field3, observers

1 DESPA, Observatoire de Paris, Meudon, France
2 Observatoire de Grenoble, France
3 Aarhus University, Danemark
(for more details see: Clénet Y., Arsenault R., Beuzit J.-L., Chalabaev A., Delage C., Joncas G., Lacombe F., Lai O., Le Coarer E., Le Mignant D., Pau S., Rabou P., Rouan D., SPIE meeting on Adaptive Optical Systems Technology, Munich, 29-31 March, 2000, Proc. SPIE 4007, 942-951, P. Wizinowich Ed. "GriF: an infrared 3-D spectroscopic mode for KIR/PUEO". )
Tuesday night, December 5th at 19h45 Hawaiian time, the first data cube scanning the s(1)(1-0) line of molecular hydrogen at 2.12 microns was obtained with GriF, an imaging spectrograph, with Fabry-Perot, attached behind the adaptive optics bonnette of the Canada-France-Hawaii Telescope. The Planetary nebula NGC 7027 was the target.
This week's image features the next set of images taken by GriF on the Orion Molecular Cloud, OMC-1. Not bad for a first night! Not bad indeed! The region next to the Becklin-Neugebauer object is visible, with the so-called bullets: blobs of material, part of a large scale molecular outflow being ejected at high speed.
As can be seen on this image, coupling a scanning Fabry-Perot to an adaptive optics imager allows to obtain not only spectral resolution to study the kinematics of the field, but also provides improved angular resolution. Obviously, the scientific interpretation is still very preliminary as the data were obtained only a few hours ago. But the data set contains, simultaneously, some of the finest angular resolution pictures of the zone AND large enough spectral resolution to study the detailed kinematics of this spectacular complex.


Technical description:
The velocity field is color coded in the image. Material moving toward us is shown in blue, while material receding from us appears in red. The complex velocity field of the outflow and the "bullets" are apparent. Note that the image has not been treated for cosmetics yet.
GriF, the instrument, is designed for use in the K-band for now but its capacities could be extended to the H-band. During this first observing run, only a warm scanning Fabry-Perot was used in front of the infrared camera (KIR). But KIR will soon be equipped with a cold grism and mask assembly, inside the cryostat. The next observations with GriF are scheduled for next May, after the upgrade.
next week: NGC 253, a bright spiral galaxy in true colours



---
editors: François Ménard, Jean-Charles Cuillandre, & Catherine Dougados
[menard@cfht.hawaii.edu], [jcc@cfht.hawaii.edu] & [dougados@cfht.hawaii.edu]

Copyright © 2000 by CFHT. All rights Reserved.




CFHT is funded by the Governments of Canada and France, and by the University of Hawaii.