CFHT, Current Image of the Week
---
CFHT's ASTRONOMY PICTURE OF THE WEEK
November 27th, 2000
The CFHT / Coelum 2001 Deluxe Astronomical Calendar

Each week, discover a new spectacular image obtained at CFHT. Browse the archive
---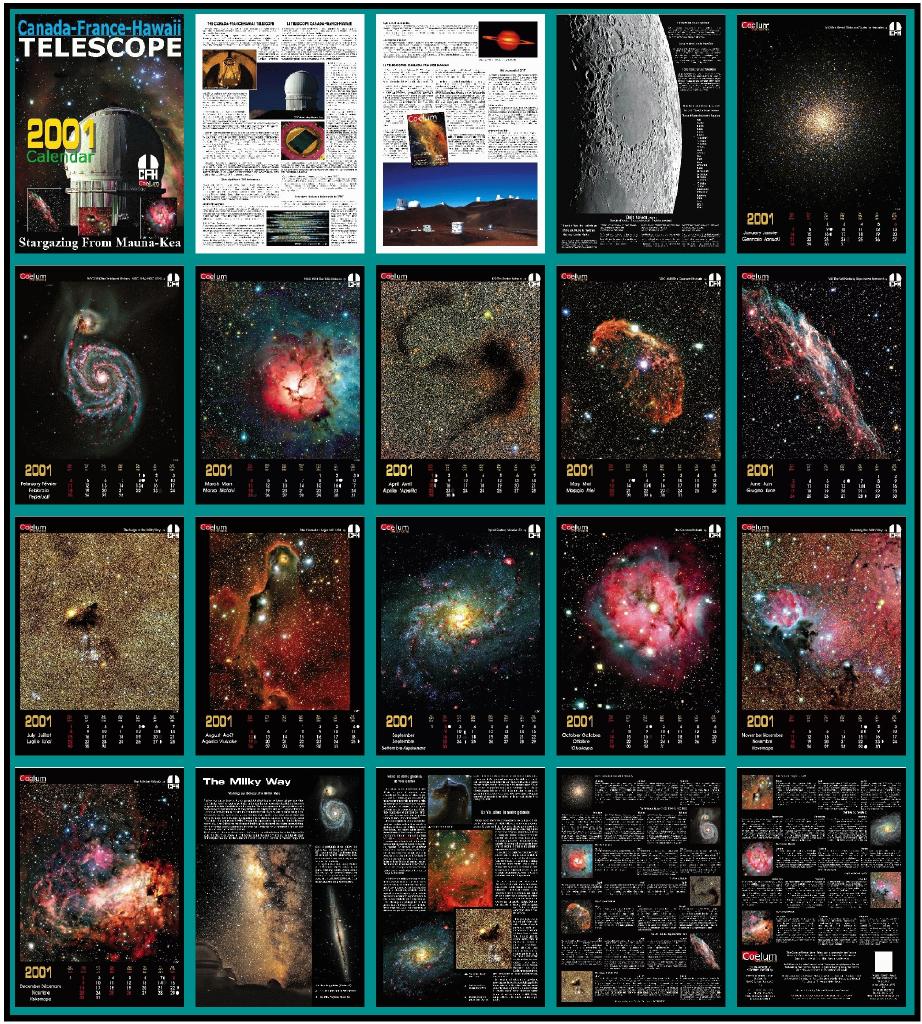 The CFHT / Coelum 2001 Deluxe Astronomical Calendar

Credit: Material (CFH12K images, photographs and text) by J.-C. Cuillandre, CFHT
Edited and published by Edizioni Scientifiche Coelum (Italy)
Editor of the Italian Astronomy magazine Coelum Astronomia

---
Calendar Description
This year, CFHT associated its efforts again with Coelum to deliver a stunning astronomical calendar. The year 2001 theme is the structure of our galaxy, the Milky Way. The calendar not only proposes 12 gorgeous true colors images obtained with the CFH12K wide-field imaging camera, it also contains a description of each image, how they compare to each other (nature of the nebula, distance, etc...) and what they represent in the evolution process of our galaxy (star formation, star evolution, stellar populations, and star death). This calendar will not only decorate walls with living colors, it will also introduce the lay person to the structure and evolution of our galaxy.
The calendar contains 2 pages focusing on the structure of our galaxy, two other pages propose legends for each of the 12 main images of the calendar. Two other pages present the Canada-France-Hawaii Telescope and the Mauna Kea observing site. Other key instruments of CFHT apart of CFH12K are presented: the adaptive optics system and the multi-object spectrograph.
Jim Thomas from CFHT kindly compiled the Hawaiian page of the calendar with material courtesy of Bishop Museum. This year's theme is the Hawaiian moon calendar.
Collaboration with the Italian astronomy magazine Coelum has made the publication of this gallery possible. The production of this calendar has been entrusted to the Coelum team because of their experience in astronomical image treatment, their skills of presentation and their enthusiasm for Astronomy. The CFHT-Coelum collaboration started in early 1999 with the publication of articles introducing the latest CFHT results to the public. Scientific director Renato Falomo (from Padova Observatory) and Coelum editorialist Roberta Zabotti forged the look of this calendar.
---
Specifications
- 20 pages (10 sheets = 12 months + pages of presentation/legend/information)
- Printed on high-glossy plastic-coated paper (weight = 10.6 oz = 312 gr)
- Format: 30cm x 42cm (A3)
- Spiral bound
- Months in English, French, Italian and Hawaiian
- All texts are presented in English, French and Italian
---
How to order (US and Canada)
- Order by sending US$15.00 per calendar to: Ms Moani Akana, CFHT, PO Box 1597, Kamuela, HI 96743, USA.
- You can send an email to Ms Moani Akana (akana@cfht.hawaii.edu) to confirm your order.
- Payment must be remitted in U.S. funds (personal checks drawn on U.S. banks or money order) to the order of "CFHT".
- The price covers basic printing costs and postage. The calendar comes in a sturdy cardboard tube.
- The number of calendars available for sale is limited.
---
Comment commander en France
- Visitez la boutique de Ciel et Espace dans la section Cadeaux.
- Le nombre de calendriers disponibles est limite.
---
Email information
Please contact Jean-Charles Cuillandre (jcc@cfht.hawaii.edu) at CFHT for further information on the calendar.
---
The CFH12K wide-field imaging camera

Several of the CFH12K images have already appeared as the CFHT picture of week:

next week: TBA



---
editors: François Ménard & Jean-Charles Cuillandre & Catherine Dougados
[menard@cfht.hawaii.edu] & [jcc@cfht.hawaii.edu] & [dougados@cfht.hawaii.edu]

Copyright © 2000 by CFHT. All rights Reserved.




CFHT is funded by the Governments of Canada and France, and by the University of Hawaii.