CFHT UM2016 - Meeting Site
1-4 May 2016, Nice, France
The CFHT triennial Users' Meeting will be held at Le Saint-Paul Hôtel in Nice, France. Le Saint-Paul Hôtel, a historical site dating back 100 years from its establishment, and spectacular setting facing the Mediteranean Sea, promises to be an ideal place for our meeting. Apart from its central location and variety of places of interest to visit, other local activities include driving the 11 miles to Monaco or visiting the Italian markets in Ventimiglia, a 30-minute drive away.
Welcome Reception, Early Registration and Meeting Dinner
A welcome reception will take place on Sunday, 1 May, at the restaurant site at Le St. Paul Hôtel, from 5:00pm to 7pm. Please indicate your attendance to the reception in the registration form. Registration to the meeting on site, scheduled to open at 4pm on Sunday, will run into the welcome reception times nearby the welcome reception event.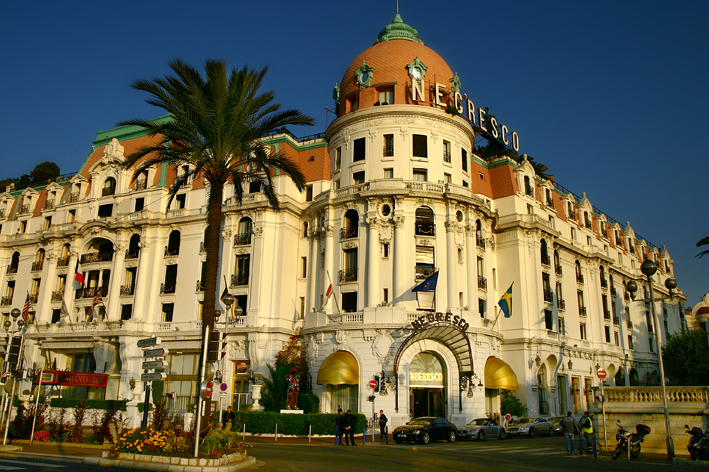 A meeting dinner has been organized on Tuesday, 3 May, at Le Negresco Hotel from 7:30pm to 10:00pm. Please note that this event, although subsidized by CFHT, will require a payment of €45; payment may be made through paypal via the Registration Form page. While this event is extended to the meeting participants, guests may participate and should be specified when registering to the meeting.
Lunch
Participants are free in their selection for lunch location. However, please note that the registration fee does include lunch at the restaurant of Le St. Paul Hôtel during the 3-day meeting.
Lodging
Le St. Paul Hôtel has a limited number of rooms, ranging from 94€ to 152€ depending on the number of guests, ocean view, etc., thus we are providing a few other options for your lodging needs (see below). Reservations at Le St. Paul Hôtel can be made using this form CLICK HERE which will generate a form letter to . Because of the popularity of the site at this time of the year, it is recommended that you make hotel reservations as soon as possible
Please note that check in and check out times are 3:00pm; 11:00am respectively. The above hotels are approximately a 20 - 30 minutes (pleasant) walk from the site of the meeting at Le St. Paul Hôtel.
May is a very busy time of year in Nice. It is strongly recommended that hotel reservations be made as soon as possible. Reservations should be made directly via the hotels' websites.
Point of Destination
When making travel arrangements your destination should be Nice Côte d'Azur Airport (NCE). Flights from Paris are frequent; the flights are non-stop and 1h30mins in duration. The airport is located approximately 7 km from the center of town.
Ground Transportation
From Airport to City Center:

Bus 98 runs from the airport to the center of Nice in ~35mins and costs €6. It runs every ~20 minutes from ~6 am to midnight (see timetable)

The conference center (Hôtel Saint Paul) can be reached by bus using bus 38 (runs every ~30 minutes only - see timetable)

Otherwise, many buses go to "Le Port" and it then takes 15 minutes to walk to the Hôtel Saint Paul. Schedule. To organize your travels by bus/tramway in Nice, please check this site.

Note regarding ground transportation on 1 May: On this "journée du travail" there will be practically NO bus (this includes airport bus 98!), meaning that participants arriving on that day will either need to take a taxi or the train. Taxis in Nice are expensive (expect ~€40 for the 20mns drive to the city center) - we will arrange a dedicated web site for participants who wish to share a taxi.

An alternative option is to walk to the Saint Augustin train station (15 mins walk) and then take a train to the town center (every ~30mns or so - takes ~10mns). See train schedule.
Local activities
For information on local recreational activities, please refer to Office of Tourism and Information about Nice.
Invitation Letter
If you require an invitation letter to facilitate your entry into France, please contact the Local Organizing Committee at .
---