1996 EaSTOC Trip
---
---
Here are some of my EaSTOC and Blue Ridge Parkway pictures. Right now most are just icon size, from the proof sheet, but I am going to scan in higher rez pictures. Then you can just click on an icon to get the bigger version.
Note for the bandwidth impaired. Big pictures are 30-40 Kbytes each.
---
EaSTOC -- the book
You can also get the written trip report. This is both for EaSTOC and my subsequent journey. I'll stick in the chapters as I write them.

EaSTOC itself

on to Roanoke

back to Atlanta through Deal's Gap
---
Other EaSTOC reports

Robert Coats

Don Feyma

Pete Wells
---
EaSTOC Attendees

    Fred Applegate
    Alabama                     applejf@hiwaay.net 
 
    Ed Carter
    South Carolina

239 Dick Chambers     
    Columbia, South Carolina    Dick_Chambers@msn.com

 99 Robert Coats           
    Atlanta, Georgia            rcoats@netcom.com

 94 Bill Cruise                 91 cruise missle II
    Waikoloa, Hawaii            cruiseXXX@cfht.hawaii.edu

237 Don Feyma                   ArreSTme
    Cedar, Minnesota            ddfeyma@sprynet.com

103 Derek Finch                 Smooth Tornado
    Goldsboro, North Carolina   dfinch@mail.gld.com

 68 Claude Hill                 The Sobe GhoST
    Nashville, Tennessee        claude.hill@nashville.com

247 Jim James         
    Sumter, South Carolina      jfjames@cpis.net

228 Bill McKenna           
    Augusta, Maine              bmckenna@mint.net

259 Brad Metzger                95 ABS pulling a trailer
260 Karen Metzger               93
    Glen Rock, Pennsylvania,    bmetzger@gnn.com

240 Tim Moore                   94 with TBR pipes
    Montgomery, Illinois,       ST11sptour@aol.com

 38 Ralph Paxton & Susan        95'ABS STammel STride
    Auburn, Alabama             paxtora@vetmed.auburn.edu

    Steve Stevens               94

127 Pete Wells                  94  Wander LuST  (she answers to Wanda)
    Canterbury, New Hampshire   ZNSX09A@prodigy.com

    Willie                      red bike with modified bars
    Florida


---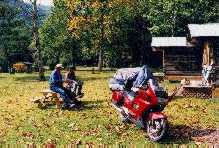 This is arrival time at Blue Ridge Cycle Campground. That's Claude Hill and Don Feyma anchoring the picnic table, and getting ready to offer a brew. The bike with the sport shield is Robert Coat's. The two fellows have covered their bikes. Maybe they know something we don't...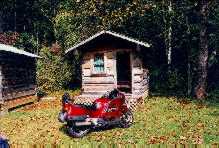 Robert's bike in front of his luxury digs for the weekend. But compared to the campers, that's no kidding around.

Tyres and headshake part 25. The excitement is evident on the faces of the happy campers, who are listening with rapt... (bull! Sorry gang, I can't keep up with these lies. At least we didn't clone pictures like the Brits!)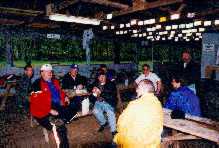 Claude lectures on the ways of the Internet. Notice the gang, ever fresh for new knowledge, have the same intense expressions of concentration they held during the headshake and tyres sessions. What a group!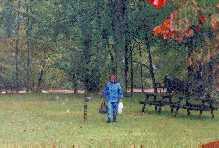 By this time Susan is mostly just ignoring the rain. I believe that's Ralph in the background doing a bit of fix-up on the tent - again.

Henry's strange fireplace/stove. This was a popular after hours place for the headshake and tyres crowd.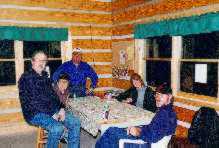 The rock poker game. Participants are (L-R) Bill, Don, Claude, Susan, and Ralph. Derek is taking the picture. His right hand was still working at this time.

Another shot of Blue Ridge Cycle Campground. My trailer room is just left, out of the picture. That's Tim and Willie. This is Sunday morning just before saddling up for the ride to Mt Mitchell..

The Sunday morning ride gang at the Graybeard Mountain overlook. It's 5592 feet elevation here. Aren't black bikes nice! The silver one isn't bad either, but the nut riding it parked it so far back you can't see it. I'm not up on everyone's name, but on the left are Don and Tim Moore. Derek is down on the end.

Another shot of the bikes at the same place.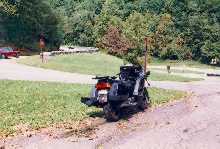 Derek's bike after the spill. You can easily see the wet grass clippings and the slide mark. You can also get an idea of the lower pavement which caused him to go over. The pavement was so low it didn't support the bike on the wing. Bad ending to a great weekend. Do however, check out the drop dead beautiful scenery.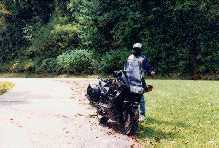 Here's Derek shortly after the mishap. I believe he is about to make a friendly, internationally understood jesture. Can't say I blame him!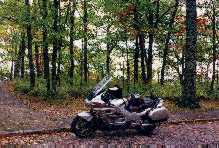 Further along the Parkway on the same day. I needed frequent stops (about 1/hour) to change CD's. Also more of that great scenery. And aren't the trees beautiful too!
For those past the tyres and headshake bit, note the options on the bike. The seat is a Corbin rumble seat, and the very, very tall windshield is a Gustafson.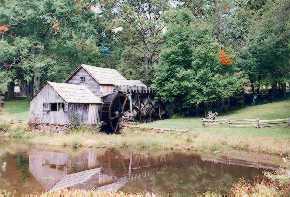 Mabry's Mill, on the Blue Ridge Parkway, in Virginia. Restaurant here serves breakfast all day - quite civilized, I think!

---
Deal's Gap Pictures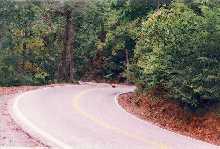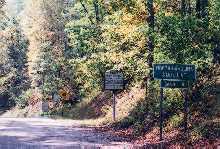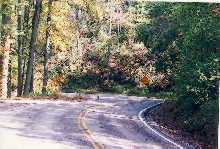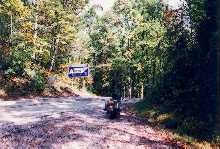 ---
Bill Cruise Last modified: Sat Nov 16 15:06:29 HST