1995 Edelweiss Alpen Tour
---
---
Here are a few pictures taken on my Edelweiss Affordable (a relative term) Alps tour. The tour spanned the end of August and the start of September. If you click on any of the pictures, you can get a much larger, and slower version.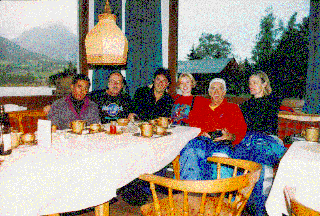 This is the riding gang on the first, rainy day out of Munich. It rained all day, without stopping. However we had to do about 150 miles, rain or more rain. We had stopped at Walchsee, Austria for a dry lunch. The gang is, from left to right, Kevin, myself, Gene, Susan, Court, and Janis. Altogether there were about twenty people and sixteen bikes on the trip. Some ride with the tour guide, some ride alone, and others join a group like this.
Our second morning brought some beautiful weather, and made the hotel, in Pas Thurn, Austria, a thing of beauty to behold. Nothing better than a brisk, Alpen morning for some spirited twisty road riding!
Here's the intrepid rider trying to figure where they store the chains on these things. Needless to say, our second morning was a bit of a surprise to all concerned. However, the Austrian road gang were out before 9 AM, and we were on the road by 10. It stopped snowing about 1 Km down the road, and in about 15 Km, after going through a 10 Km tunnel, we were out of the snow altogether. Afternoon was warm and sunny in the valley.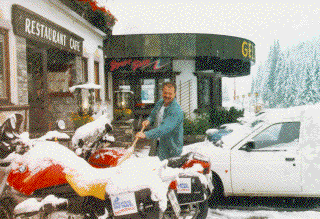 Marcus, our friendly Edelweiss tour guide offers the typical top notch Edelweiss tour service with a smile. (And probably a big laugh when we weren't looking.) I thought it was very considerate of him to clean the snow off my bike, until I realized he intended to make me ride it!
The tour guides trying to decide if they can even get the van out of the parking lot!
Me again. I figured if I stayed close to the sign, I could grab on if I started sliding off the mountain.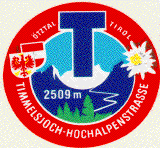 Timmelsjoch Hochalpenstrasse is a scenic toll rode over a high pass on the Austrian-Italian border. A lot of the passes have stickers like this, and many of the European riders cover their helmets with them.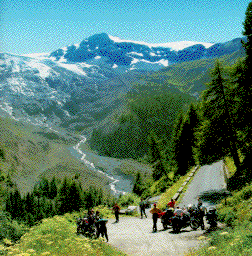 OK, I admit I didn't take this one. It comes from the front of the Edelweiss 1996 World Tours brochure. If you are interested in this type of riding, try calling 1 (800) 255-7451, and ask for Virginia. However, the picture sure isn't a fake. I was there, and it is beautiful, both as scenery and as biking road.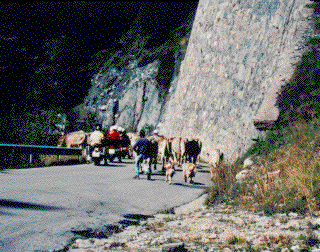 Not all the hazards were wrapped around high speed twistie riding. This shot was on one of the smaller roads over a pass in Italy. Right about this time one of those furry critters knocked Wink's mirror off with its tail! (Parts tend to fall off Beemer's, ya' know!) And if you've never had the chance to test how slippery cow sh*t is, take my word -- it's slipperier than #$%#!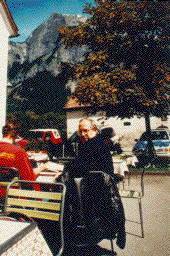 Yours truly enjoying a late lunch with tour guide Tom. This was in Switzerland, about a mile from the border with Liechtenstein. You freeze up in the passes, and feel overdressed in the valleys. Great day! Most of the day I was the only one riding with Tom. An individualized tour guide! What a deal. You can agree to crank the speeds up a notch or two, and then to stop for a leisurly coffee or lunch in one of the many beautiful towns.