Armoires
Puisque les armoires (cuisine, salle de bain, entrée) prennent environ 8 semaines à obtenir, il a fallu faire un choix rapidement et passer la commande. C'est chez Home Depot qu'on a trouvé des armoires blanches de style cottage pour la salle de bain, et des armoires "vert mousse" pour l'entrée. C'est pas donné, et on a révisé à la baisse nos exigences et éliminé deux extras pour les armoires de l'entrée.
Il a fallu également commander la porte coulissante pour la salle de bain. Ah lala! Pas grand chose en stock, à part l'ordinaire, quand on vit sur une île!
Pour la cuisine, c'est notre menuisier local qui a obtenu le contrat. Son travail pour la rampe d'escalier nous a vraiment impressionné (ça impression tous nos visiteurs!) et on est sûr qu'il pourra nous faire des armoires sur mesure avec une touche personnelle et unique.
Cabinets
Since cabinets (kitchen, bathroom, mudroom) take 8 weeks to get, we had to make a choice and order quickly. We found something we like very much at Home Depot: white cottage-style cabinets for the bathroom, and green "moss glaze" cabinets for the mudroom. Not cheap, so we elimiated two extras for the mudroom cabinets.
We also found a very pretty door for the bathroom pocket door, but had to order it since it was not in stock, and what's in the store is rather bland. That's what it is to live in Hawaii!
For the kitchen, our wonderful master capenter and furniture maker got the contract. Since everybody is so impressed with his ohia and koa railing, we know that we can get unique cabinets from him.
Planchers
Après les murs, les planchers! Celui du loft, de la cuisine, et de l'entrée. On aime beaucoup le plancher laminé du salon, alors on a opté pour du laminé encore une fois pour le loft. Un produit différent, mais très bien adapté au climat humide d'Hawaii, et qui imite le koa (un arbre d'ici). Ensuite, au même magasin, on a trouvé des tuiles pour l'entrée et la cuisine. C'est pas comme s'il y avait 36 magasins et autant de choix à Hilo...
La caméra digitale est devenu un outil de magasinage, avec lequel on a pris des photos de ce qui nous plaisait, ou de ce qui pourrait être intéressant.
Floors
After the walls, the floors! Loft, kitchen, mudroon. Since we like very much the laminate we have in the living room, we chose another laminate product for the loft, perfect for Hawaii's humid climate, with an imitation of koa wood (a Hawaiian tree). At the same store, we also found tiles for the kitchen and the mudroon. It's not like we have 36 stores in Hilo for flooring...
The digital camera became a shopping tool what we used to snap pictures of what we liked, or what could be an interesting choice.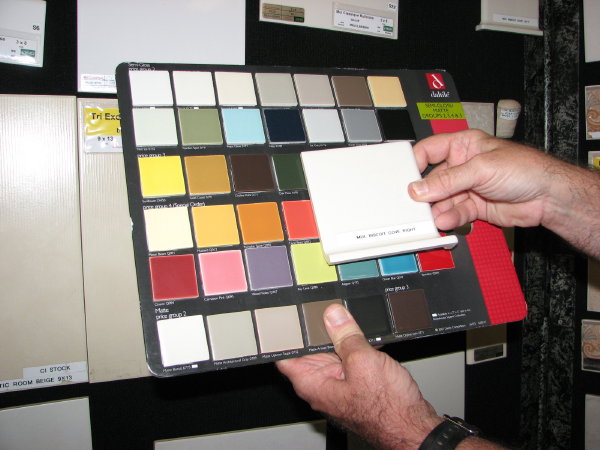 Couleurs
Planchers, murs, et armoires doivent aller ensemble, et le choix des couleurs est très important! On a acheté un exemplaire de quelques tuiles qui nous plaisaient, et on les a trimballés avec nous pour les mettre côte à côte avec des échantillons de peinture et des portes d'armoire.
Colors
Floors, walls, and cabinets have to go well together, so the choice of colors is very important! We bought single tiles of a few styles that we liked, and we carried them around with us to put them side by side with color samples or cabinet doors.
Luminaires
Tant qu'à magasiner, autant arrêter aussi pour commencer à regarder ce qui se fait côté luminaires! Le détail important à considérer est qu'étant donné qu'on génère notre propre électricité, on doit minimiser la consommation d'énergie, et opter pour les ampoules fluorescentes compactes ou des LED (encore très cher, mais ça existe). Et ce ne sont pas tous les styles de lampes qui acceptent des fluo compacts!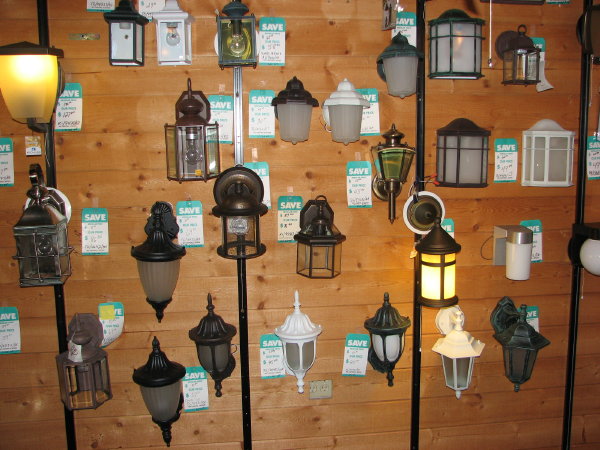 Light fixtures
While we are at it, might as well start shopping for light fixtures! The important detail to take into account is that since we are off-grid, we have to minimize our power consumption, and pick compact fluorescent ou LED lamps (the LEDs are still very expensive, but they do exist). Not all fixtures can take a compact fluo, so we have to be careful!